Information and Communications Technology (ICT) Designer I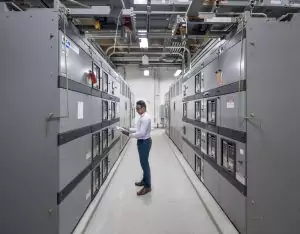 Position Summary
Ballinger is seeking an Information & Communications Technology (ICT) Designer I to join our engineering team. This position will be responsible for designing and implementing communications and security systems infrastructure for various project types, and working closely with architects, engineers, and other stakeholders to develop efficient and reliable systems and solutions. Learn and advance your skills in ICT Design and build a career with our firm's forward-thinking and evolving innovations in smart building system technologies.
Position Responsibilities
Engineering support in the form of modeling and documentation tasks within a larger project on project teams under the direction of Senior/Project RCDD or Department Head
Work with the ICT team to design communications systems, including but not limited to telecommunications, electronic safety and security, and audio-visual systems for healthcare, academic, and research facilities
Active and direct role in document production
Interface and coordinate with other disciplines
Create detailed system designs, drawings, and documentation.
Stay current with industry trends, advancements, and best practices.
Develop knowledge of Ballinger's project types: health care, academic/lab/research, corporate/workspace by active engagement with project teams and leadership.
Technical/Professional Skills
Foundational interpersonal skills and coordination efforts
Foundational analytical and engineering skills under the mentorship of project engineers
Ability to take direction within a larger team
Develops design or technical solutions under the supervision of the Project RCDD and/or Department Heads
Proficiency in relevant design software and tools (e.g., Revit, AutoCAD, Bluebeam Revu).
Proficiency with MS Word, Excel.
Thorough understanding of discipline's drawing and graphic standards, adherence to standards for quality and consistency in Ballinger's product
Active role in drawing production, including but not limited to picking up redlines, quality assessment of individual work, coordination with other disciplines and coordination reviews, and participation in team coordination meetings from SD through CA phases
Strong interpersonal skills, specifically communication, dependability, responsibility, and teamwork.
Coordination skills, specifically communication, organization, time management, and adaptability.
Detail-oriented with a focus on accuracy and quality
Requirements
Bachelor's degree in a related field or equivalent as determined by the firm.
0-4 years of experience