Main Line Today Highlights Radnor Development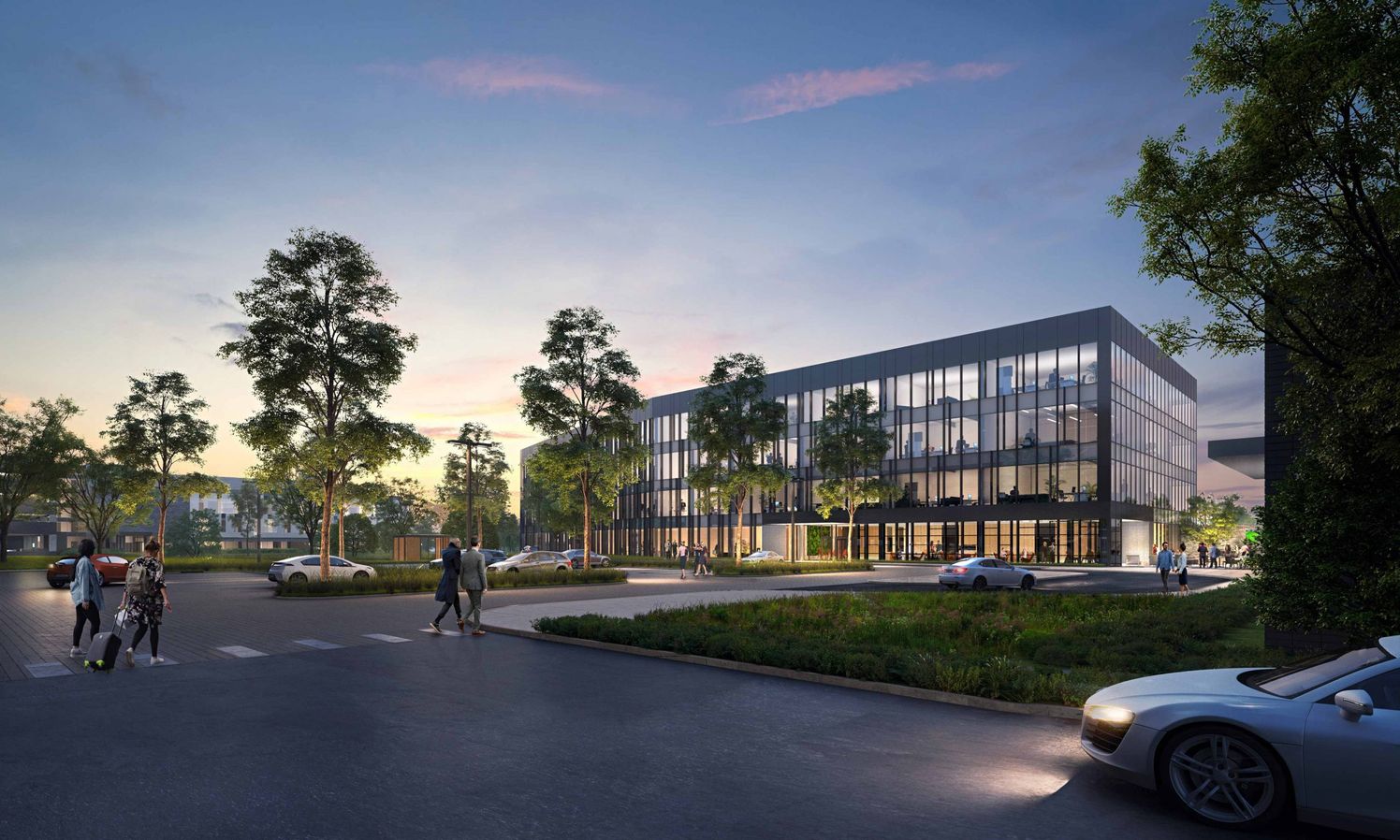 Main Line Today published an article highlighting 155 Radnor, the Ballinger-designed workspace development led by Brandywine Realty Trust, and included remarks from Senior Principal Eric Swanson, AIA.
Excerpted from Main Line Today:
If you ask Jeff DeVuono why there hasn't been any new office development in Radnor Township for nearly 30 years, he'll provide a simple, clear answer: "It's not a lack of interest in developing office space, it's a lack of available land."
The Brandywine Realty Trust executive vice president and senior managing director for Pennsylvania understands that, when it comes to Main Line real estate, it doesn't get any better—or more crowded—than Radnor. But as a key component on the Brandywine team for 155 Radnor, DeVuono is pretty excited about the project, which is set to debut later this year with 145,000 square feet of rentable space, plus a luxury hotel. "If you look at the statistics, Radnor is the only market in the Pennsylvania suburbs that has single-digit vacancies," he says.
The new development is part of the 26.6-acre Penn Medicine campus, which is also a Brandywine venture. Located on King of Prussia Road, it's convenient to the Route 100 SEPTA light-rail and Paoli/Thorndale lines, and within easy driving distance of the Blue Route and Schuylkill Expressway. Throw in the robust retail climate in the area—plus housing and school options that are among the best in the region—and the new complex has one of the better addresses around. "It's also where decision-makers live," DeVuono says or Radnor's impressive roster of residents.
Satisfying one of real estate's biggest needs—location—155 Radnor also has a substantial advantage in terms of its design, which was helmed by Philadelphia architecture firm Ballinger. It emphasizes productivity, quality of life and the ability to feel comfortable in the workplace. The latter has become an increasing necessity as businesses devote more time and resources to attracting and retaining talent. DeVuono likens the process for new employees to the college search his children are undertaking. "They go on a campus and they don't know what they like about it, but they want to be there," he says.
Inside, the 155 Radnor complex will feature high ceilings, large windows, attractive views and open spaces. Outside will feature the same walking paths, outdoor seating, biking/walking trails, work areas and gardens that have become so popular with residential and commercial developments. It's no longer enough to have a nice chair. Workplaces need to be comfortable and pleasing, or their employees won't want to be there. "Everything is about the live-work-play environment," DeVuono says. "People also want to stay healthy and connected."
Eric Swanson is the lead architect on the 155 Radnor project. "You don't know what Biophilia is?" he poses "It's the theory that all of us humans, because of our long evolution, have an innate affinity for nature. People in health care understand the benefits of nature in healing and well-being."
Since 155 Radnor is part of the Penn Medicine campus, it makes sense to give it a look that helps those who work there integrate more easily with their natural surroundings. That's why the building will be primarily glass, and make use of a parking garage rather than acres of lots to maximize green space. There will be plenty of room to roam, meet, eat and think outdoors—a sure benefit in the warmer months when the urge to spend time in the sun increases.
Such designs are a break from the norm established in the last two decades, which favored emphasizing interior congregating places. Although there will be plenty of productive space inside for collaboration, there will always be an opportunity to enjoy some natural light and views of nature.
"The modern workforce is looking for these amenities," says Swanson, who's been with Ballinger for 35 years. "If you look at the campuses for Apple and tech companies out West, they attract talent by being good places to work, but also by providing ways to take breaks from work, without having to leave the area."
Those who work at 155 Radnor won't have much use for the hotel, but the property will fill a need for the companies inside the development, along with others in the area. "Everything is about the live-work-play environment—and the hotel is part of that," says DeVuono, who expects several different tenants in 155 Radnor.
The first floor is somewhat adaptable to the needs of a company, while the other three are more set in their layout. There will be no retail component to the building, which is a function partly of the amount of offerings close by. It's also due to the fact that Brandywine Realty Trust doesn't want to lock itself into a particular formula that may not allow for flexibility later. "We want a physical space and infrastructure that can adapt to future needs," DeVuono says.
Brandywine has focused on making sure the bones of the building will be as modern as possible—and that includes power, water and HVAC infrastructure. It should come as no surprise that Brandywine is labeling 155 Radnor a "trophy class" property—a building that offers the broadest amenity base. And while that may sound like a somewhat arbitrary appellation, it's one the new folks in the game can claim as they move the design model forward.