Toward Net Zero: Adaptive Reuse for Science at the University of Michigan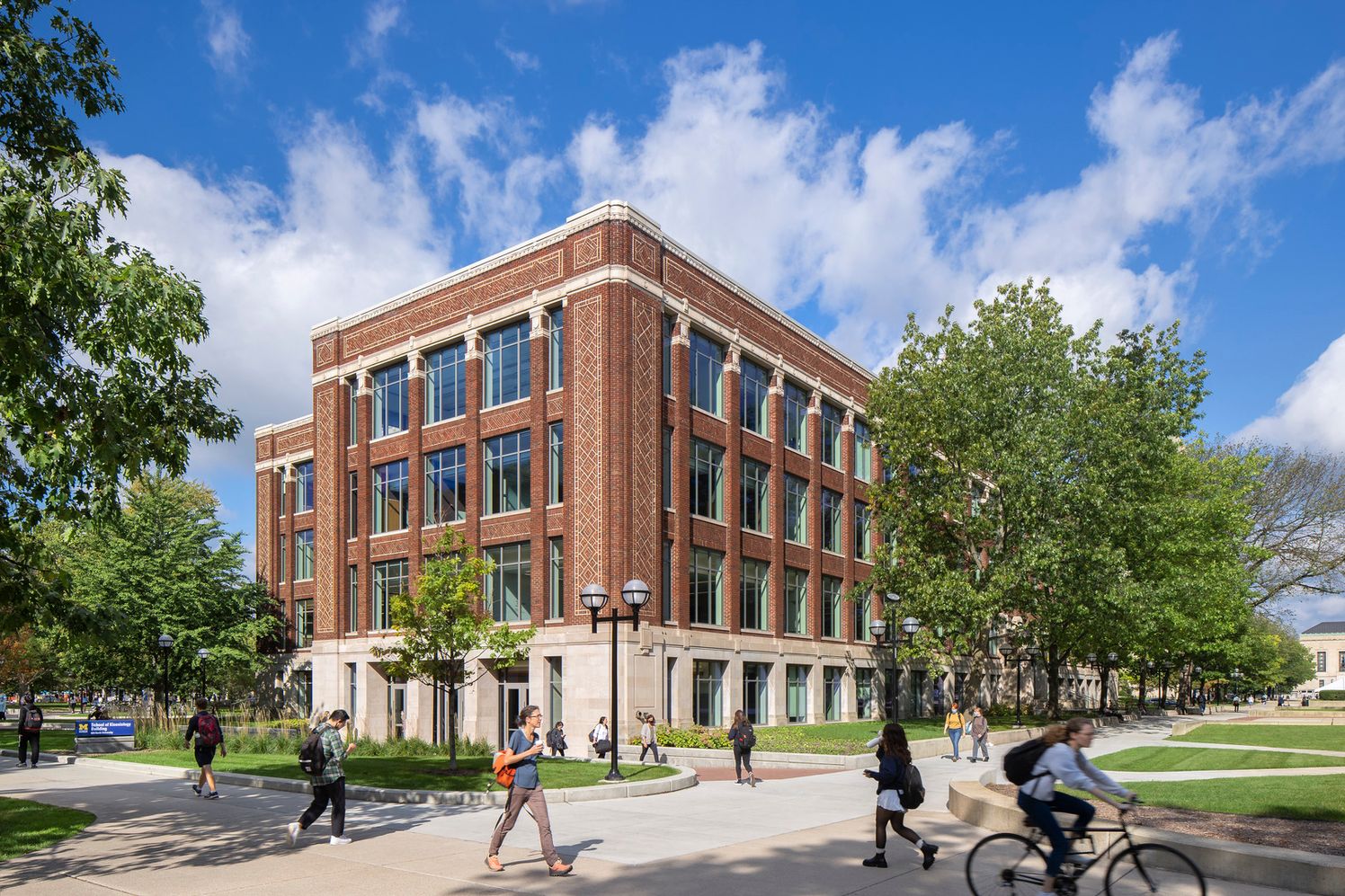 The University of Michigan's commitment to environmental stewardship goes back over 150 years. When professor Andrew Dickson White arrived on campus in October 1857, he found it an "unkempt and wretched" forty acres. Soon after, he began mapping walkways and planting trees. Students joined him, nursing seedlings and creating what is now known as the Diag, a central campus crossroads.
Today U-M's commitment includes achieving carbon neutrality university-wide, through emissions reduction strategies as well as organizational steps to foster a culture of sustainability across U-M.
A recent achievement in sustainability that honors U-M's rich history is the adaptive reuse of the Kinesiology Building, a century-old, Albert Kahn-designed landmark building. Despite previous skepticism of the potential for modern science in existing historic building, skillful interventions in the architectural and engineering systems yielded a new, dynamic and efficient home for the expanding School of Kinesiology.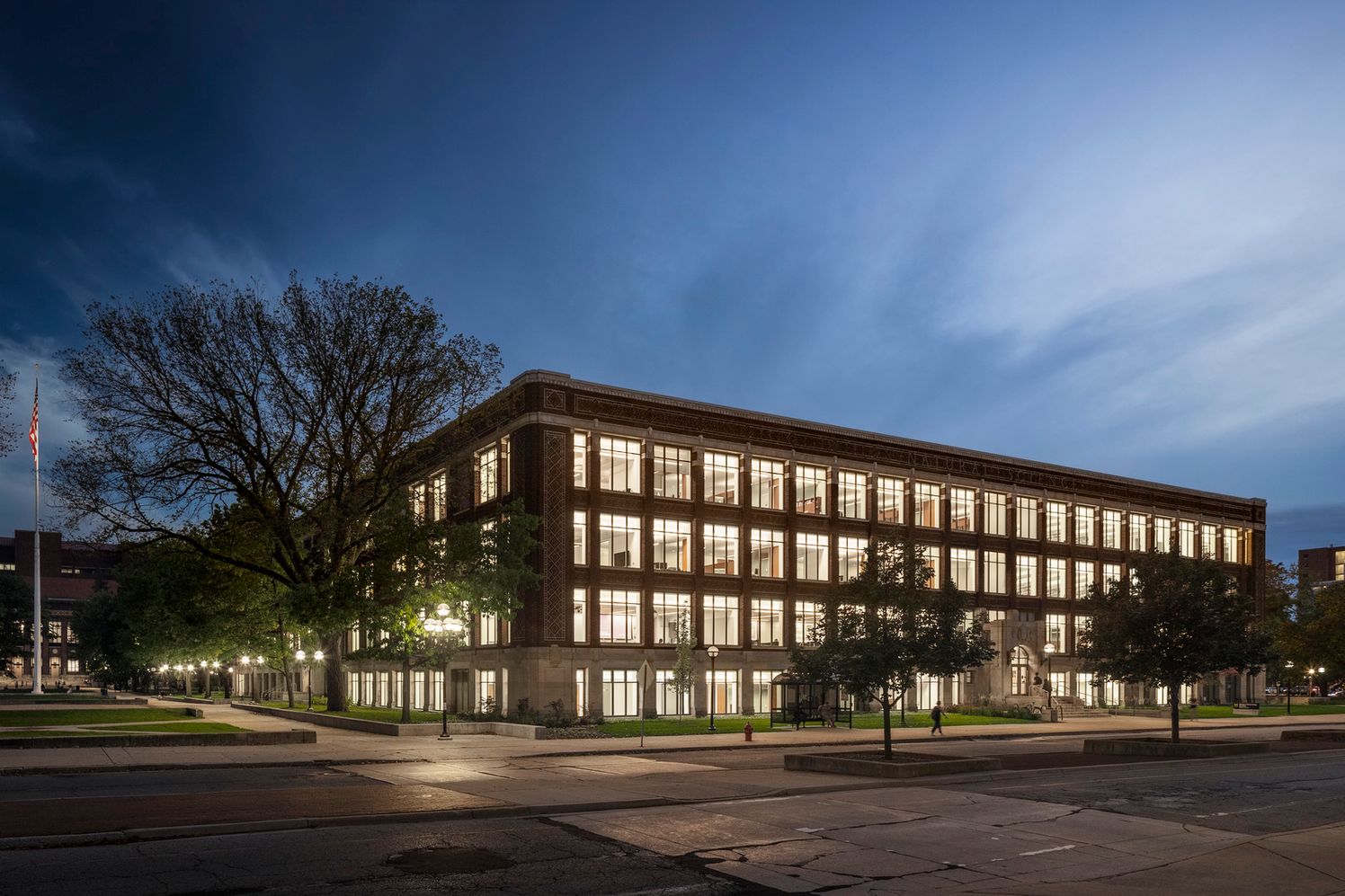 This building was not Ballinger's first foray into the world of adaptive reuse, therefore, in 2018 when the University charged the team with transforming what was then called the Edward Henry Kraus Building, they were ready. They developed a design strategy that involved a gut renovation of the structure combined with an infill of an existing courtyard, which allowed for larger, more light-filled spaces, and architectural and building systems decisions that are now paving a path to net-zero emissions and tangible cost savings.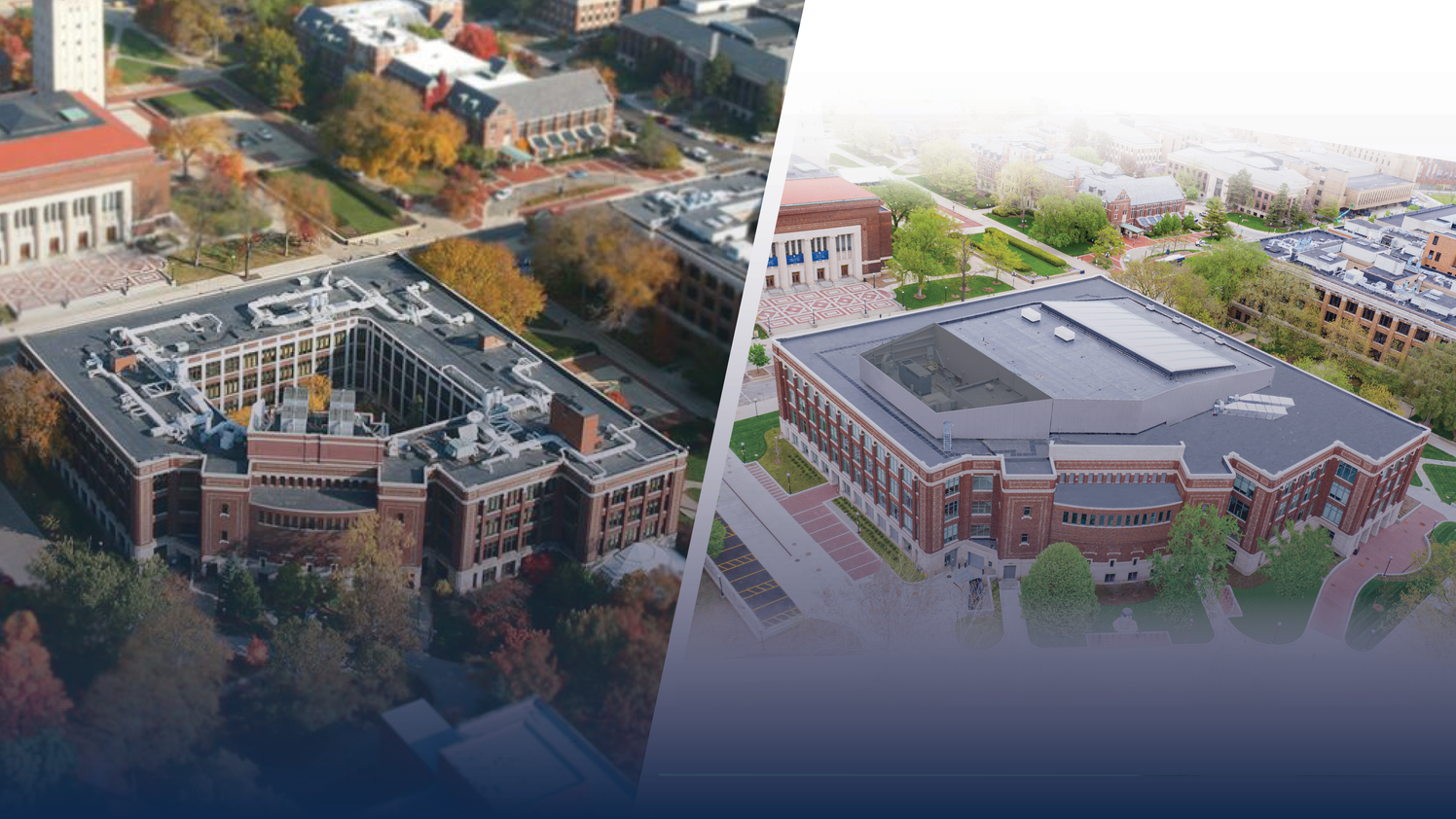 Atop the new infill, a skylight penthouse floods the space with daylight, while in the existing building, the original windows — a hallmark of modernity for the historic structure — are once again accessible. Wrapped in curving staircases and overlooked by breakout balconies, this new commons, with its open-plan meeting places, acts as an academic crossroads for students and faculty. By encouraging collaboration, enabling interdisciplinary work, and reflecting human movement, it establishes a new identity for the building and new potential for the disciplines it houses.
Kinesiology is the study of bodies in movement. In this design we wanted to evoke flexibility and motion at every turn, from program to systems.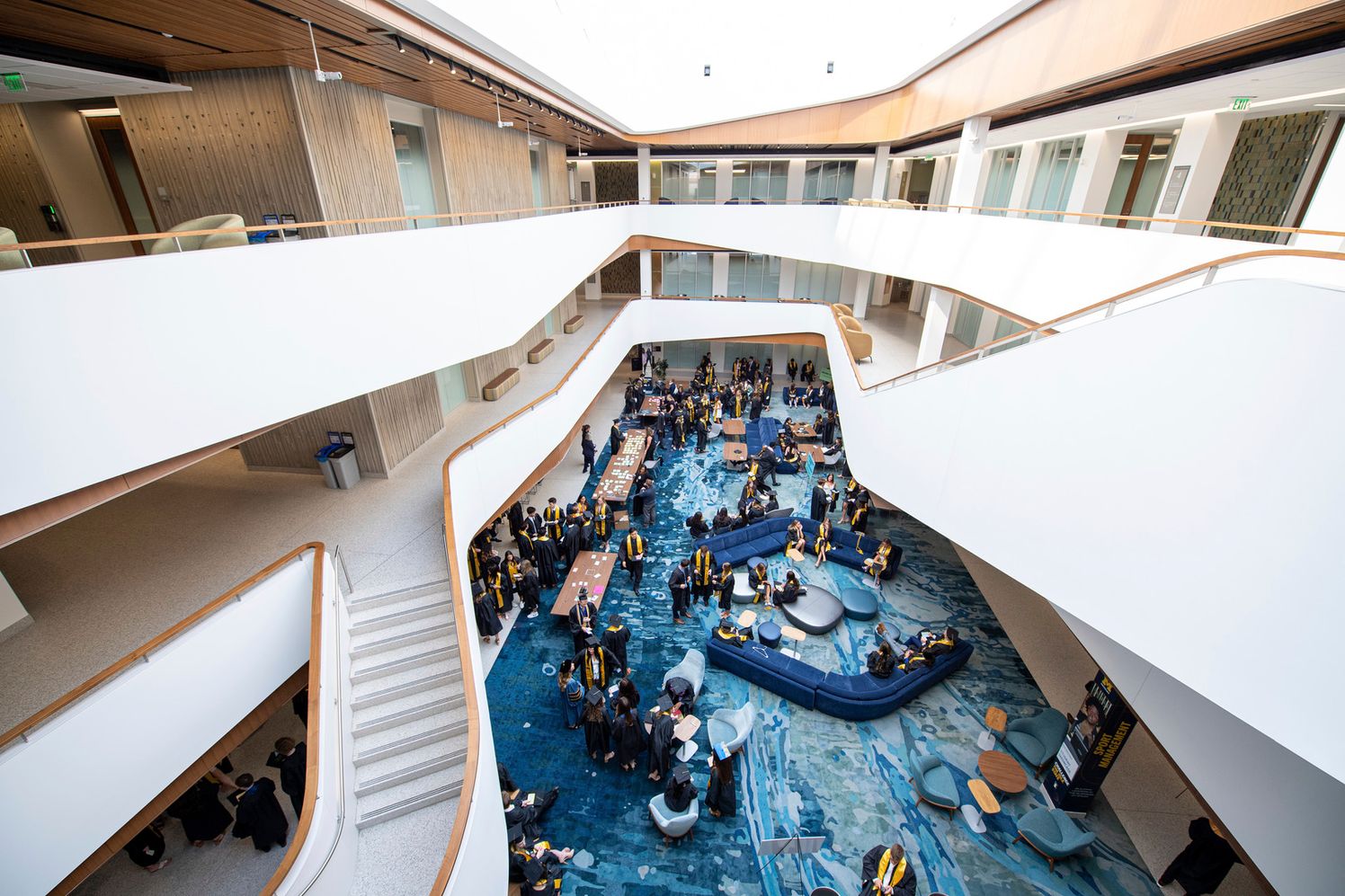 Exterior Envelope Optimization Using Advanced Energy Modeling
The design team generated advanced energy models early in the concept design phases. In cold climates, the building envelope plays a major role in reducing fossil fuel heating loads. Given the historic nature of the Kraus Building, the addition of insulation and vapor barriers could trap moisture in the brick exterior and result in expanding and cracking of the brick façade. The models helped identify strategic envelope upgrades that significantly impacted heating demand and carbon footprint.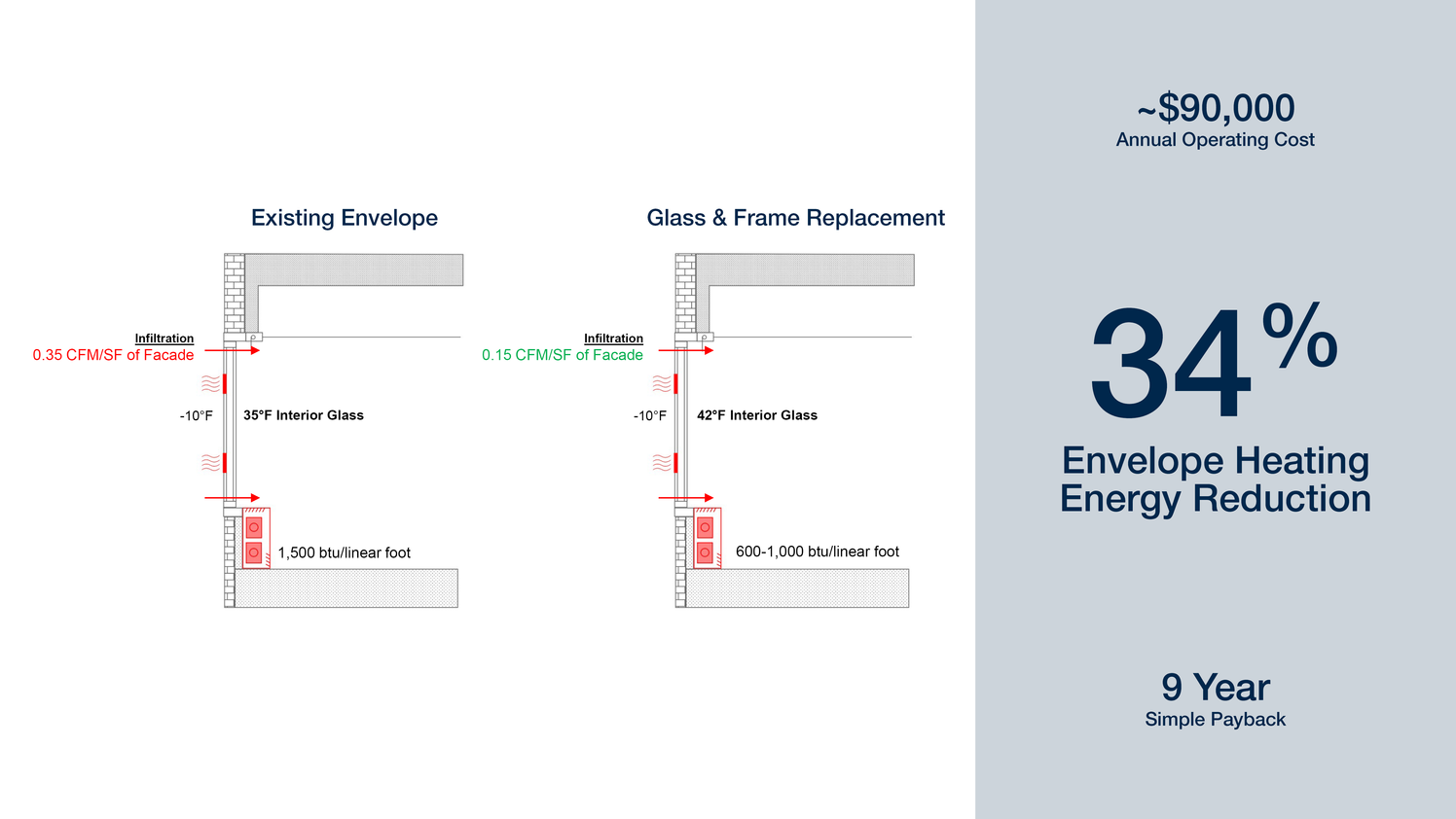 The existing building was leaking air. We pinpointed where the energy was being used and, with our approach of replacing the window glass in the frame, we saved 34% on the envelope energy heating performance, which has a 9-year payback for the University.
Strategic Re-use of Existing Shafts
Originally home to botany and mineralogy research, the building included over fifteen dedicated shafts, each extending from the rooftop to the first floor. An innovative HVAC system approach supplying the building with clean 100% outside air coupled with over 80% effective dual energy wheels (total + passive desiccant) allowed for reuse of the existing shafts while reducing fan energy by nearly 10%. The shafts are connected to a "duct ring" that circles the atrium hidden in the mechanical penthouse.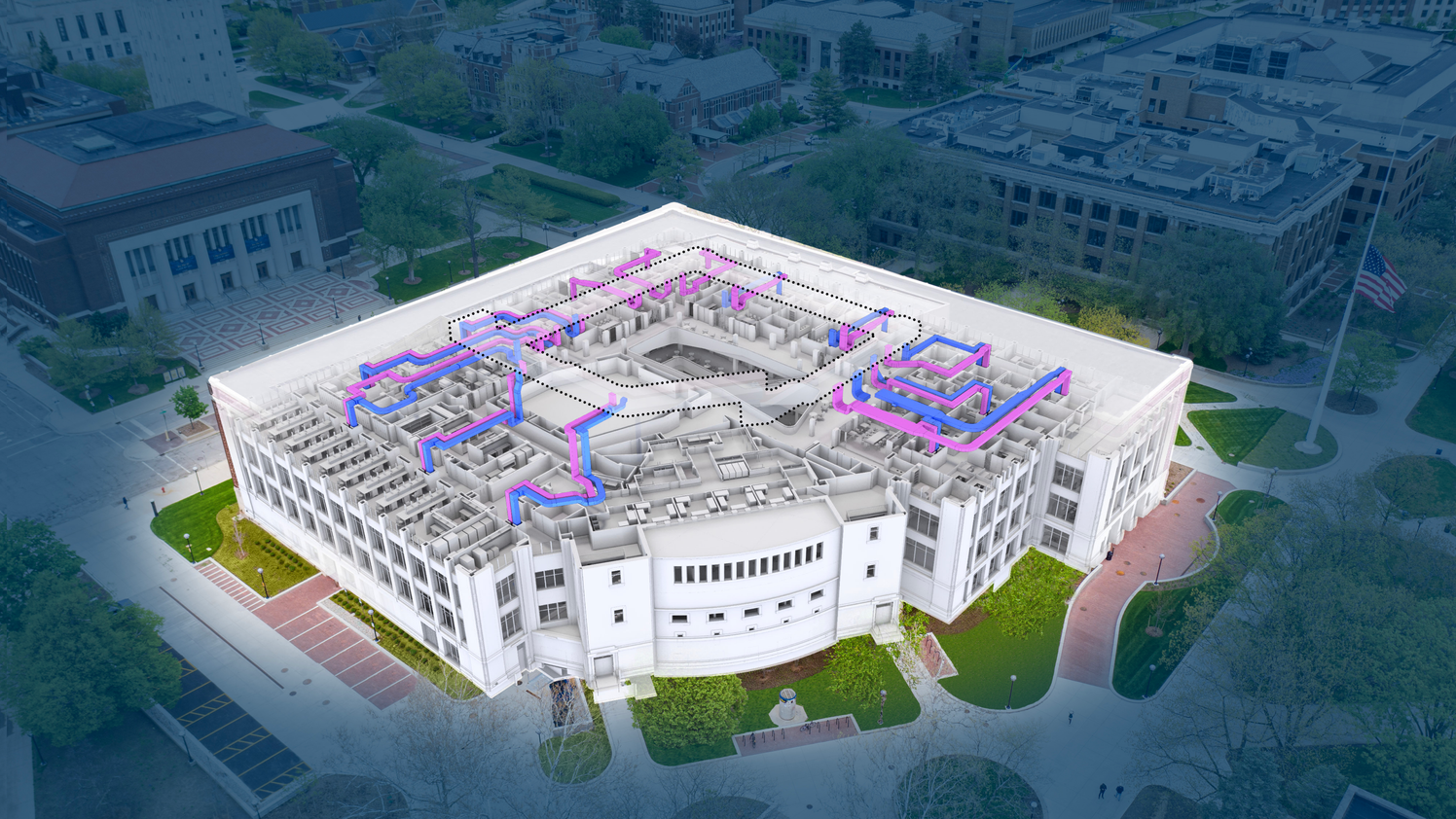 De-coupled HVAC System
With a typical code-compliant system, all heating and cooling requirements are provided from the air-handling unit. A decoupled approach separates heating, cooling, and ventilation air HVAC components, eliminating the need for excessive airflow rates and heating/cooling energy required to condition this air. Reheat coils are not required at supply terminal units. This drastically reduced the building's overall cooling (OA dehumidification) and reheat loads. The building uses 52% less energy than a standard building.
My three takeaways from this project are: 'embrace renewal cycles,' 'maximize retained value,' and 'leverage data to inform systems.' This project truly reflects the totality of our strengths as an integrated practice.
The Future
Work that was done on the Kinesiology Building has not only filtered into future projects at Ballinger (including at the University of Pittsburgh and Johns Hopkins University), but also helped inform the University of Michigan's President's Commission on Environment, Sustainability, and Carbon Neutrality. In addition to design awards, the project earned the 2022 AIA Pennsylvania COTE Award of Excellence, which recognizes achievements in sustainable design. By combining innovative systems technologies with best practices in adaptive reuse and a relentless commitment to design that inspires learning, the building design propels U-M's legacy of stewardship and excellence.