Drexel Health Sciences Building Recognized for Excellence in Structural Engineering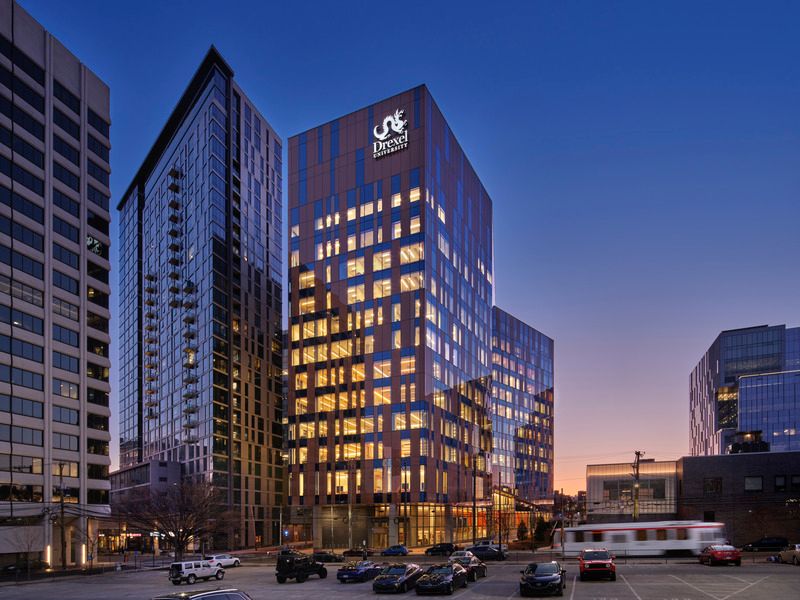 The Drexel Health Sciences Building received the Merit Award for Excellence in Structural Engineering from the Delaware Valley Association of Structural Engineers (DVASE). Developed and owned by Wexford Science & Technology and Ventas, the 500,000 SF, 12-story tower opened in 2022.
Architectural, tenant, and construction requirements impacted several aspects of the structural design and required extensive coordination, even after construction started, to deliver an ideal structure for the tenant. Examples of these requirements include an offset building core and lateral system to provide large open tenant space; four column-free corners providing unobstructed views of fifty feet; a transfer truss at the lowest steel levels to maintain a public, ground level promenade along the building's north side; a phased steel design timeline to meet rolling fabricator schedules and demanding construction schedule; and coordination with the CM and steel erector to support one of two tower cranes from already-fabricated steel columns.
Senior Associate Brent Ellmann, PE, who led the structural engineering for the building, appreciated the recognition from his peers. "This was a challenging project that required extensive coordination, several design iterations during an aggressive schedule, and a fast-paced steel submittal review and coordination phase that coincided with the early days of the pandemic. In the end, Ballinger was able to deliver an optimal structure for our clients on time." he said.
At Ballinger, we provide ingenious solutions for intellectual spaces. Learn more about our award-winning academic projects.