The Value of POEs: How Post-Occupancy Evaluations Can Shape Buildings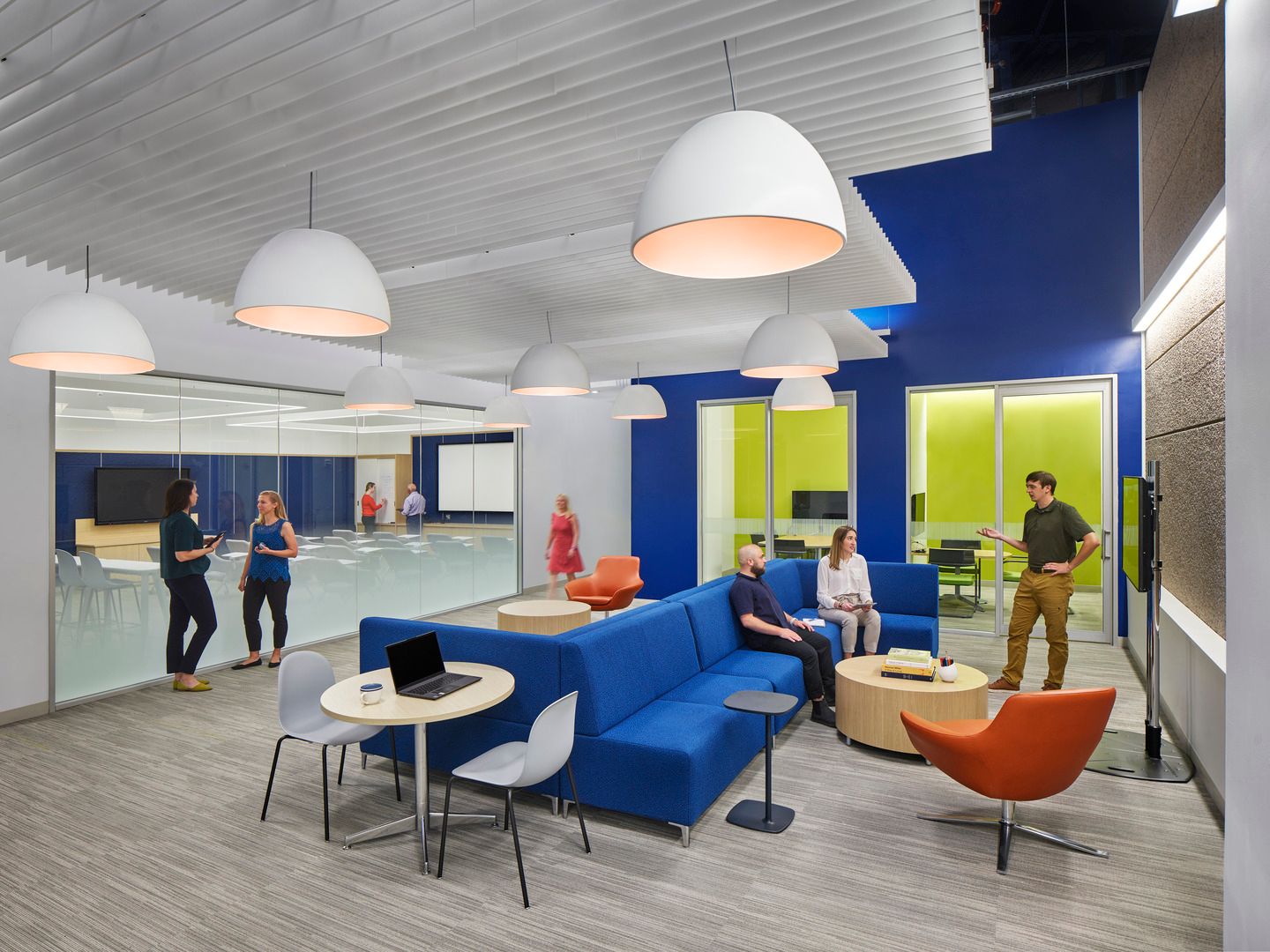 "The space was designed for small, informal breaks but it's become a spot for large lunches and caterers."
"Teams are suggested to come in 2-3 days per week, but utilization is still lower."
This is the type of information that Post-Occupancy Evaluations are designed to elicit – insightful, space-specific, and reflective of users' needs. Post-Occupancy Evaluations (POEs) can take the form of surveys, discussions, or individual interviews, and the invaluable data they provide can satisfy a number of goals for both client and designer: sometimes clients want to hear what's working (and what isn't) at the end of a project, or they want to understand an already-existing space – for example, a client who has just finished a construction project and wants to ask a few questions to inform new spaces. Over the last two decades here at Ballinger, both of us have frequently seen these types of POEs performed in conjunction with smaller-scale evaluations of specific areas that clients have questions about.
Asking the right questions, the right way
Regardless of whether a POE is conducted for an entire facility or a target space, asking the right questions is crucial to getting focused and actionable feedback from users. A POE is just as site-specific as the buildings themselves and is crafted from a combination of past questions from similar project types and specific client interests. The flexibility that this model provides has demonstrated distinct advantages in the wake of Covid-19, as questions now often consider not only the perspective an employee's role but also the frequency with which employees are in the office.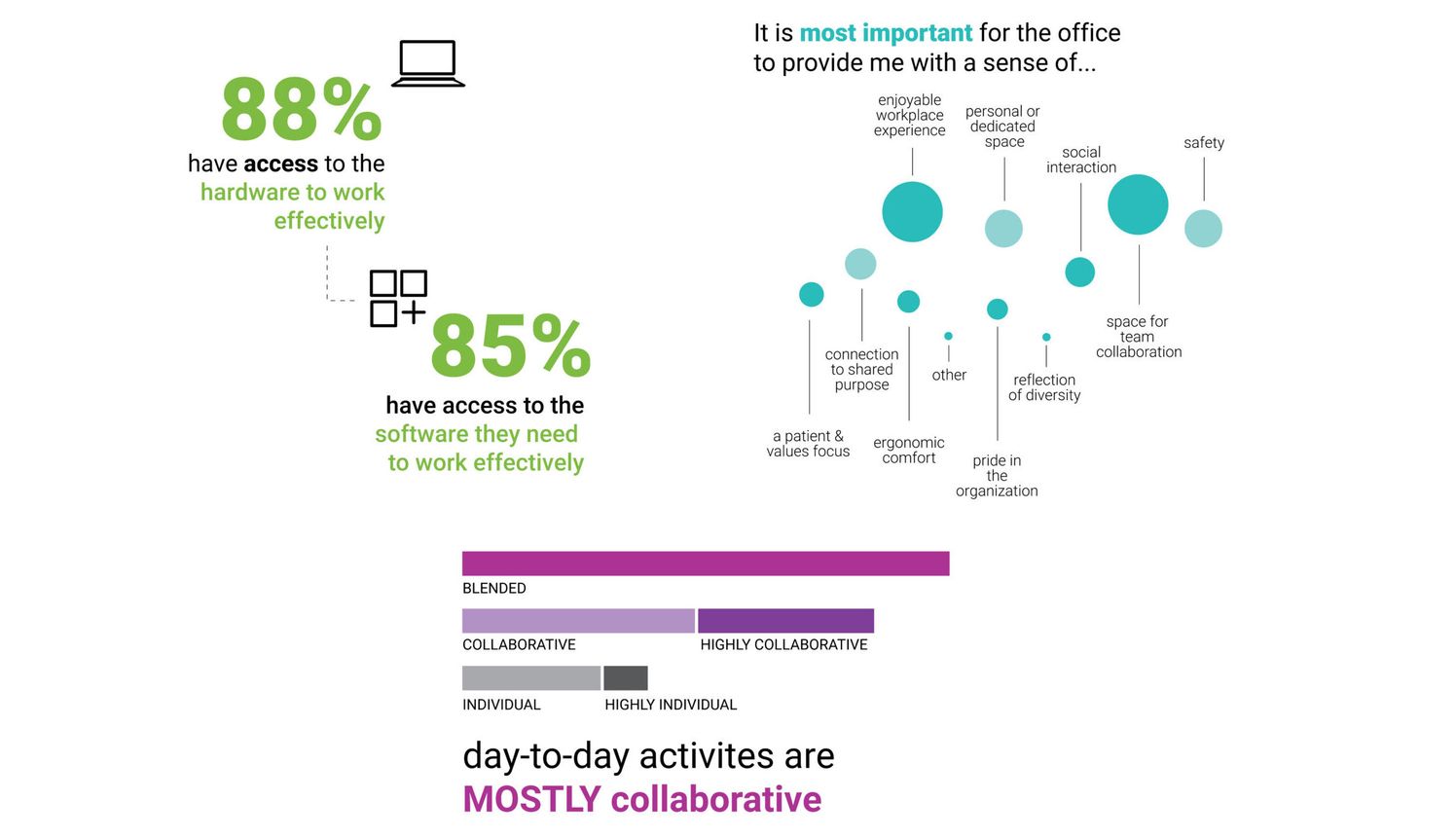 In response to these questions, we've seen a corresponding wealth of feedback that's allowed us to examine respondents' profiles more holistically and distinguish between feedback from employees who are physically in the office once a week, for example, and employees who are there more often. Once these differences become apparent, we can take a broader look and ask ourselves why they exist: Is the space having an influence on the experience? Is it an external factor? Are groups using the space differently as a result? Beyond simple data points, we endeavor to get to the roots of these questions through focus groups and more conversational engagement. Our expertise comes in large part from constantly learning and evolving our understanding of how our designs influence people's use of spaces and how it affects their overall wellbeing. Because POEs deliberately cut across hierarchies and job functions, the responses and data they collect can lead to further analysis regarding space use by groups and trends among users. This is true beyond workplaces – for example, POEs conducted at Ballinger-designed healthcare facilities have yielded valuable information about patient and staff user experiences.
A measure of sustainability
The broad spectrum of people responding to POEs is also beneficial in the context of sustainability: POE surveys provide crucial information about thermal, visual, and acoustical comfort that can validate both qualitative and quantitative design criteria. Informing sustainability goals in categories such as equity and wellbeing, POEs can identify performance and configuration adjustments needed to align the building with its intended design and improve the accuracy of future design models. A key component of initiatives such as the AIA 2030, and Ballinger's Sustainability Action Plan 2.0, POEs are an essential tool for informing adjustments to project models.
Benefits for clients
While sustainable design concepts have evolved to consider how the field as a whole can support areas of equity and wellbeing, they are buttressed by the same rigorous process of evaluation and analysis that drives POEs. It's this process that has helped position Ballinger as a thought leader during a time when workplace needs are still being reshaped: years of data push Ballinger's own approach to client design and reveal developing trends across workplace, academic, and healthcare market sectors.
One illustration of where we see this is the rise of flexible spaces: our job used to include more tabular programming where we might say, "For one hundred employees, the client will need one hundred seats." That's changed, and it's emphasized the need for a variety of space types with the understanding – captured through POEs – that there are many reasons people might come into the office and experience its culture on a daily basis.
As the transition to a post-pandemic world continues, there remains much to uncover about how people can best use their workplaces. Gathering information, and at times making informed adjustments, allows clients to better understand what works for their employees.  These types of evaluations generate smarter, more thoughtful projects – for clients and across the industry; now and into the future.