Confidential Client

a dynamic test space for the office of the future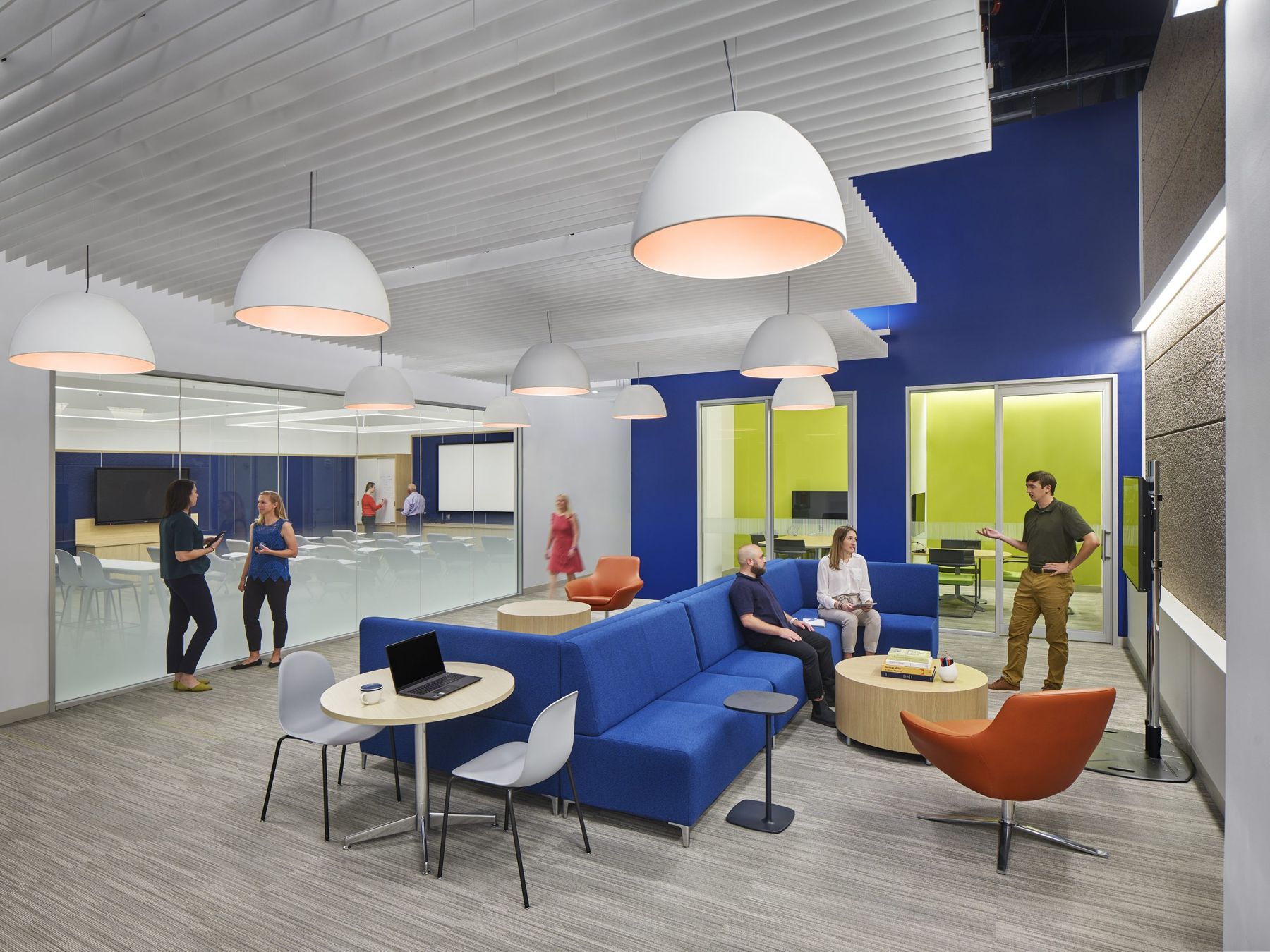 Confidential Client
Digital Engagement Teams
An agile workspace designed to promote innovative thinking and collaboration at a prestigious pharmaceutical company, Digital Engagement Teams spaces are resilient enough to accommodate multiple planned and unplanned uses – often at the same time. Located in a building Ballinger designed in 1997, the design of these unique workspaces updates and reinvigorates our original office environment to meet the needs of today's nimble workforce. More importantly, it empowers employees with new resources to help them adapt and respond to any future challenges.
An embodiment of the "scrum" management framework, which emphasizes flexibility and creative problem solving, the space combines high- and low-tech solutions to meet individual needs while supporting group dynamics. It provides open collaboration areas, "scrum" rooms, and a generous "retrospective" space for groups and visiting workers that's part café and part conference room. All spaces are designed for flexibility, with movable furnishings, pinup surfaces and whiteboards for sharing ideas, and multiple digital screens for presentations and teleconferencing. The design artfully balances the company's need for effective acoustical design with their desire for visual transparency to promote interaction across teams and bring daylight deep into the offices.
key information
Location
Upper Gwynedd, PA
We designed the highly adaptable spaces in direct response to how the client's teams work today and how they think they'll be working in the future. Bridging data and design, we conducted surveys and workshops to understand employee needs. We tested and refined our ideas in a pilot space built on campus to explore and optimize new workplace strategies. The data we collected through this comprehensive research and analysis helped us improve the design to better serve the client. But the work didn't stop there.
Months after install, we conducted a post-occupancy analysis to ensure the space was meeting the client's needs. This critical stage of our process revealed unexpected changes in employee behavior and highlighted aspects of the project that could be improved, inspiring us to add personal storage for visiting workers and more circulation space in scrum rooms, among other tweaks. This process echoes the iterative scrum workflow, and we will continue to learn and iterate on the design as fit-outs are deployed across the client's offices nationwide.